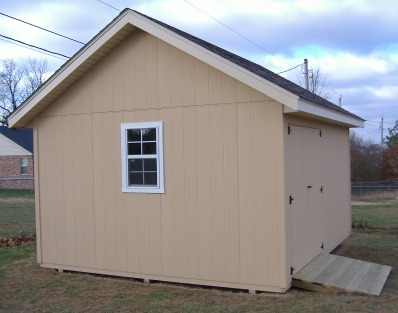 I also build gable roof sheds. The standard pitch of my gable shed roof is 5/12. This means that the roof rises 5" per 12" of run. This is low enough to be within most local building codes for height while still being functional and attractive. If you want a steeper pitch, I can build it; up to a 12/12 pitch (quite steep) The roof overhang of the standard gable shed is about 6", including painted drip edge. The standard wall height is about 7-1/2 feet.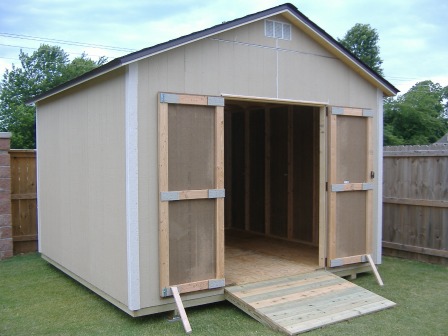 At right is a regular 12 x 12 Gable shed with optional ramp. It comes with "Smart siding" and "Smart trim", factory pre-primed and ready to paint. Also standard are double doors, gable vents, and the painted drip edge shown in the picture.

At left is a 14 x 14 gable shed. This building has an 8/12 pitch and a one foot overhang all around. This one also has aluminum soffit and fascia and a 2' x 3' window. These upgrades are available for an additional charge.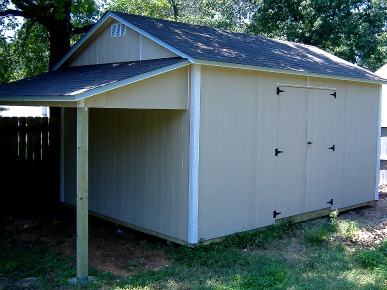 Pictured at right is a 12 x 16 gable shed with a lean-to on the end. The lean-to is perfect for a large mower or other piece of equipment you'd prefer to keep outside. Lean-to is an available upgrade.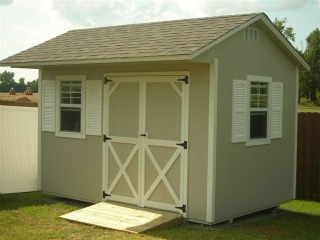 Above is an 8 x 12 garden shed. It has a two foot overhang along the front, which protects the doors and gives it a nice look. There are also window shutters on this one, and it has the optional door trim.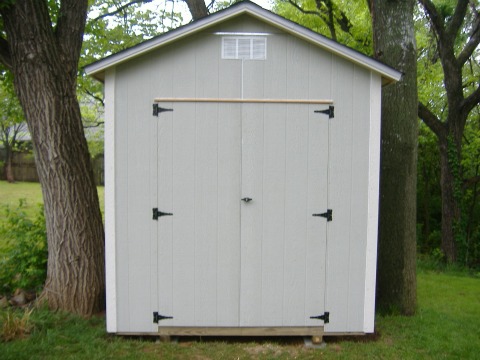 Site-built means you can put it almost anywhere!

SIZE 

8X8

8X10

8X12

8X14

8X16

10X10

10X12

10X14

10X16

10X20

10X24

12X12

12X14

12X16

12X20

12X24

12X28

14X16

14X20

14X24

14X28

14X32

REGULAR GABLE      SHED PRICES:

PRICE

1200

1365

1490

1745

1945

1765

1895

2155

2320

2835

3285

2295

2565

2775

3315

3825

4335

3370

4120

4895

5695

6475

.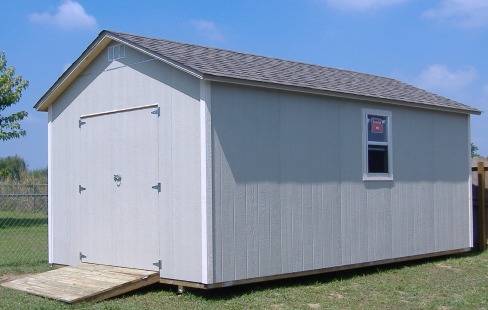 12 x 20 Regular gable at right. Pictured with optional ramp and  window. No extra charge for architectural shingles.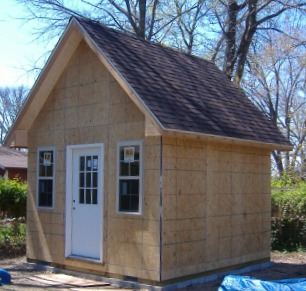 Left: Gable shed with 12/12 pitch with one foot wood overhang. Owner will install vinyl siding.

These prices are listed for the regular gable shed built on-site, painting not included.